World Gas Conference (WGC) will be held in May next year in Daegu, South Korea.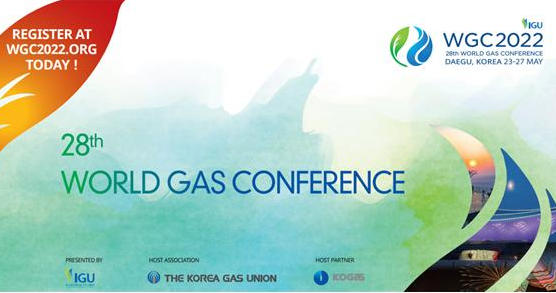 Daegu Metropolitan City has devoted all it's power for the successful hosting of the World Gas Conference (WGC) in May next year.
The World Gas Conference has 90 years of history since 1931 and it is the world's largest and the most important global gas industry event which is also known as the 'Olympic of Gas Industry.' Korea lost its bid in 2002 (Seoul) and 2011 (Busan) and finally won the bid to host the WGC in Daegu in 2014. It's the third time following Japan and Malaysia in Asia.
From May 23-27, Daegu will host 12,000 attendees and 350 exhibitors representing 500 companies from more than 90 countries. It is predicted that there will be less restrictions on business travels, so the participation is expected to increase. Over 80% of the Daegu EXCO's exhibition halls, will be the conference venues, have already been sold out.
In this leading gas supplying energy companies' exhibition, there will be the world's energy companies such as Chevron Corporation, ExxonMobil, Gazprom, Qatargas, Cheniere Energy, etc. participating.
In particular, as energy prices such as natural gas, oil, and coal are rising due to the global energy shortage, and hegemonic competition in energy has intensified, the Daegu's conference is expected to be an opportunity to assess the future prospects of the energy industry.
"This will be an opportunity to intensively nurture the energy industry such as hydrogen-related industries," Daegu Mayor Kwon Young-jin said.
Company:Digital Chosunilbo
Contact Person: Jeong Se-woon
Email: sewoona@chosun.com
Telephone: 010 3334 9996
Location:52, Sejong-daero 21-gil, Jung-gu, Seoul, Republic of Korea
Disclaimer: This article is reproduced from other media. The purpose of reprinting is to convey more information. It does not mean that this website agrees with its views and is responsible for its authenticity, and does not bear any legal responsibility. All resources on this site are collected on the Internet. The purpose of sharing is for everyone's learning and reference only. If there is copyright or intellectual property infringement, please leave us a message.