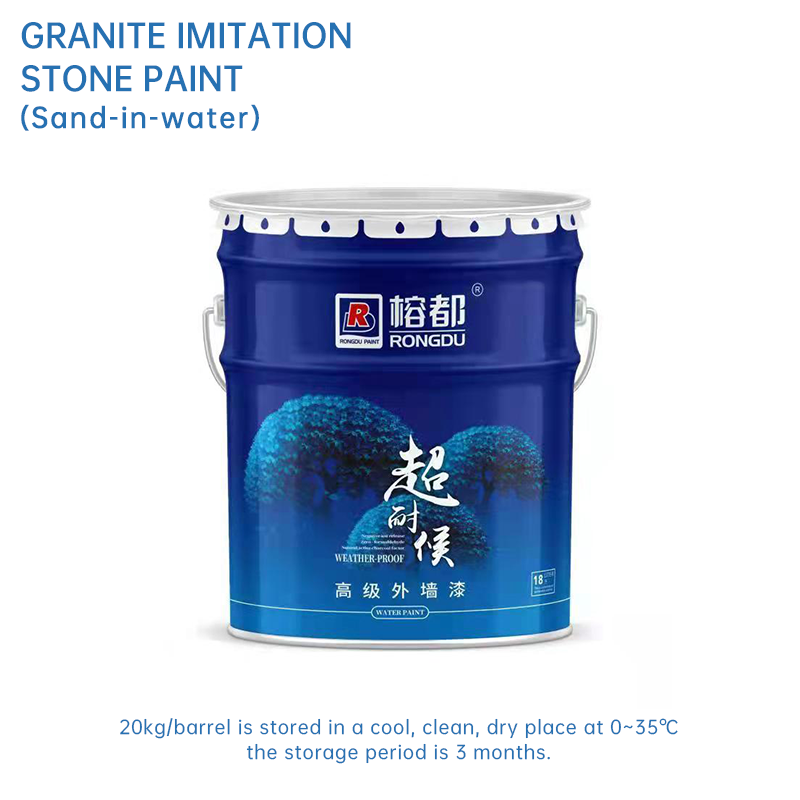 Imitation stone paint is a thick exterior wall decorative paint with decorative effect similar to marble and granite. Buildings decorated with imitation stone paint have natural and real natural colors, giving people a sense of elegance, harmony and solemnity. Suitable for indoor and outdoor decoration of various buildings. Especially when it is decorated on curved buildings, it can be vivid and return to nature. It solves the hidden safety hazard of falling off and hurting people caused by dry hanging stone and tiling in buildings.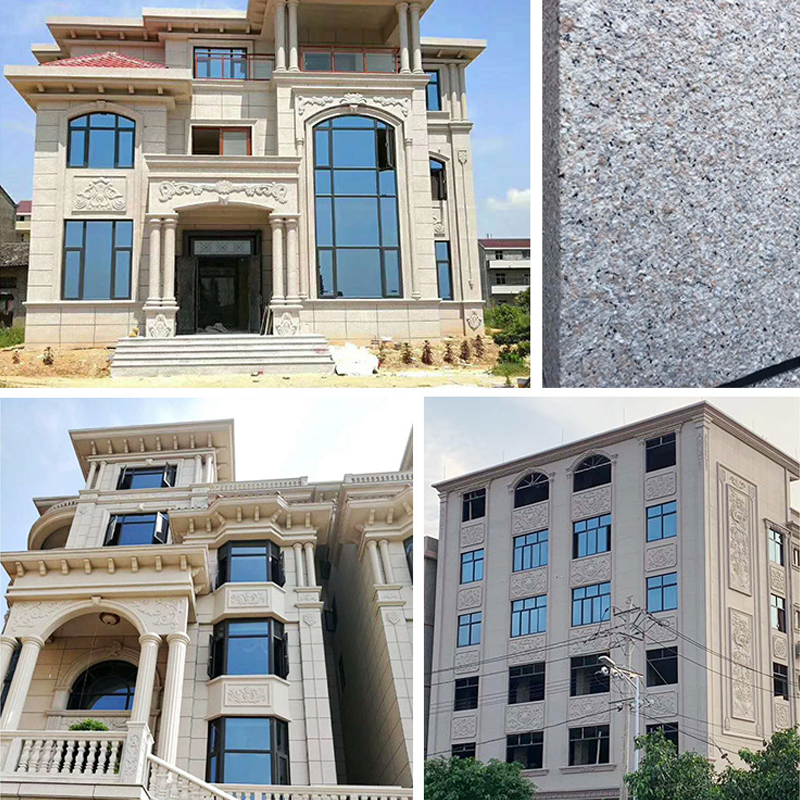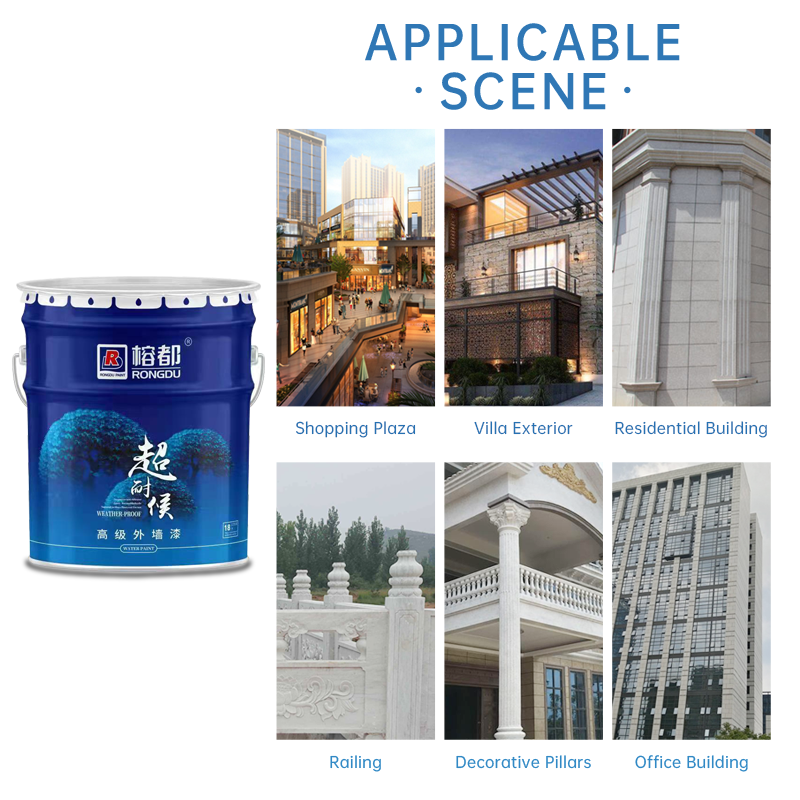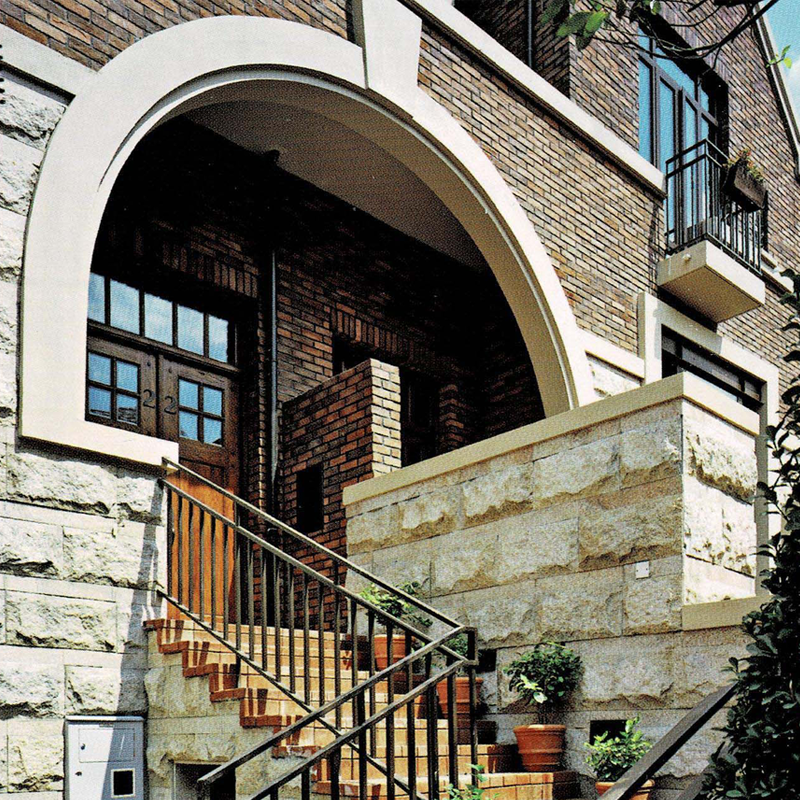 Product performance:
1. No security risks
The amount of sand in water is 0.8-1.5㎏/㎡, which only accounts for 1/30 of the weight of the stone, with strong adhesion and higher safety properties.
2. Long waterproof life
The high-quality sand-in-water has a service life of up to 20 years. The sand-in-water is made of natural materials and has good adhesion and freeze-thaw resistance, effectively preventing the erosion of the building by the harsh external environment and prolonging the life of the building. .
3. Simple construction and short construction period
The pattern layer and the modeling layer are formed at one time, and the construction period of the sand-in-water coating is 50% shorter than that of the ceramic tile. It only needs to do the primer, the primer, the middle coat and the top coat, and the construction is simple and the time is short. 4. Good stain resistance and long color retention period
Sand-in-water has the advantages of good weather resistance, color retention, etc. Most of the dirt is difficult to adhere to, and it is resistant to pollution. After the rain washes, it is as beautiful as new, and manual cleaning is easier.
4. High degree of simulation
The layered and three-dimensional sense of the pattern is stronger, the simulation is higher, and it is more like stone.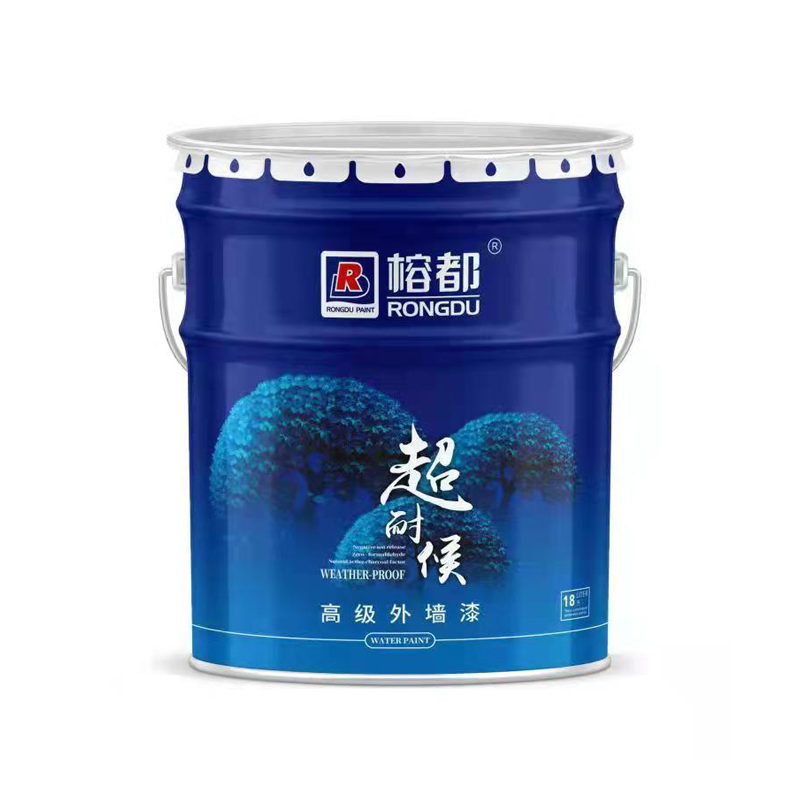 Fujian Chuangmei New Material Technology Co., Ltd. was founded in 1998. Rongdu paint is the company's flagship brand. Rongdu paint has been sold all over the country for more than 20 years. It has a group of loyal and stable customers, and with good product reputation and company reputation , constantly supported by new and old customers.
The company has modern technical equipment for paint production, senior professional and technical personnel for paint production and development, perfect means of product development and performance testing, and a strict quality management guarantee system. The company has a business department, a research and development department, a production department, a quality inspection department, a design department, a development department, and an engineering department. At present, Fujian Chuangmei New Material Technology Co., Ltd. has developed into a collection of scientific research, production, development, design, export trade, construction An integrated modern building material construction enterprise. It is certified by the state and governments at all levels:
high-tech enterprises.
Fujian Province to build a scientific and technological achievement promotion unit.
Obtained the national invention patent, filling the gap of China's inorganic functional materials.
Won the Fuzhou Science and Technology Progress Award, and is the only award-winning enterprise in the paint category.
The Science and Technology Department of Fujian Province is listed as an excellent enterprise for independent innovation.
Listed as the designated supplier of the government procurement catalogue of energy-saving products in Fujian Province by the Fujian Provincial Department of Finance.
Designated supplier by the catalogue of real estate materials used in construction projects in Fuzhou.
Relying on Fujian Provincial Testing Institute, Fujian Provincial Building Research Institute, Fujian Provincial Technical Quality Supervision Bureau, and Fujian Normal University Polymer Materials Research Institute, Rongdu Paint continuously develops and introduces advanced materials and technologies at home and abroad to produce water-in-water products. , sand in water, sand in sand, real stone paint, textured sandblasting paint, inorganic antibacterial paint, multi-functional thermal insulation paint, fluorocarbon paint, water-based fluorocarbon paint, pvc paint, waterproof penetrant, multi-functional interface agent, high Weather-resistant exterior wall paint, clean-smell series interior wall paint, etc. are all welcomed and recognized by the market, and have won relevant awards from the state and the government for many times.
Rongdu paint has a complete product quality assurance system, and has fully passed the iso9001 international quality management system certification and iso14001 international environmental management system certification. As well as cqc China Quality Certification Center certification and ccc mandatory product safety certification, strict and reliable quality management and environmental protection awareness are always running through all links from raw material procurement to product sales. Fujian Chuangmei attaches great importance to the protection of human living environment, and seeks to save energy and reduce environmental pollution to the greatest extent.
Li Xiunian
Rongdulee@gmail.com
344718337@qq.com
Disclaimer: This article is reproduced from other media. The purpose of reprinting is to convey more information. It does not mean that this website agrees with its views and is responsible for its authenticity, and does not bear any legal responsibility. All resources on this site are collected on the Internet. The purpose of sharing is for everyone's learning and reference only. If there is copyright or intellectual property infringement, please leave us a message.